My main accomplishments in e-learning are related to my work as the Senior Instructional Design Lead at Science Action Club, a program of the California Academy of Sciences. Science Action Club is a nationwide STEM program for middle-school age youth, focused on getting them outside, connected to nature, and conducting authentic scientific research.
Learning Management Systems
The Science Action Club Educator Portal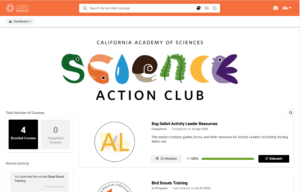 I researched, launched and maintained the learning management system for Science Action Club from 2016-2018. This LMS has served over 1,700 science educators and teacher trainers by providing online coursework, supplemental educational resources, and ongoing support.
Online Courses
The Science Action Club online courses include everything an educator needs to know to run a successful club, including the basic science content, key approaches to youth facilitation, and important tips on running each session of Science Action Club.
Bug Safari Online Course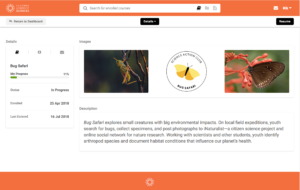 I led the development of the first online course for the Science Action Club, Bug Safari. Bug Safari explores small creatures with big environmental impacts. On local field expeditions, youth search for bugs, collect specimens, and post photographs to iNaturalist—a citizen science project and online social network for nature research.
Bird Scouts Online Course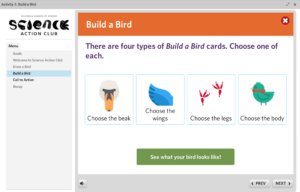 I led the development of the second online course for Science Action Club, Bird Scouts. Bird Scouts explores feathers, flight, and the features that make birds unique. Using tools and technology, youth identify local species and investigate environmental changes that impact bird behavior.
Cloud Quest Online Course
I led development of the third online course for Science Action Club, Cloud Quest. Cloud Quest explores the impact of clouds on weather and climate. Using the GLOBE Observer citizen science platform, youth identify sky conditions and report their discoveries to NASA.