After two and a half years of the pandemic, I was so excited to go to my first real education conference for KQED, the International Society for Technology in Education (ISTE) in New Orleans, Louisiana at the end of June.
ISTE is one of the largest edtech conventions in the country, bringing together industry leaders, educational organizations, and thought leaders from around the world. Think Google for Education, the US Department of Education, Dr. Cornel West and 13,000 teachers. I've been hearing about ISTE for years, long before I came to KQED, so to finally get to go was such an honor and a privilege.
My main role at ISTE was to represent the PBS Media Literacy Educator Certification by KQED at a poster session on the second day of the conference. With ample help from my colleagues Janelle and Megan, I assembled a pretty respectable poster presentation in the conference hall we were assigned. I love the actual poster that Megan designed, which was visually appealing and had a very clear and enticing message.
I had the pleasure of working with one of our certified PBS educators Merek Chang, a science teacher from Southern California. Merek and I made a good team repping the work, me as the program manager and him as a teacher who has gone through the entire process and now assesses the PBS micro-credentials.
Getting to talk to real teachers about the PBS Certification was a super helpful exercise for me – distilling our work into bite-size bits that are relevant to whoever I was talking to. My strategy was to get the teacher talking about how they use media in the classroom, and then transition to talking about how the program can help them get recognized for their important work.
I also got to meet another PBS certified educator, San Francisco-based history teacher Ricardo Elizalde. Both Ricardo and Merek were the first recipients of the new PBS Certification pins that we just produced, and incredible ambassadors for our work.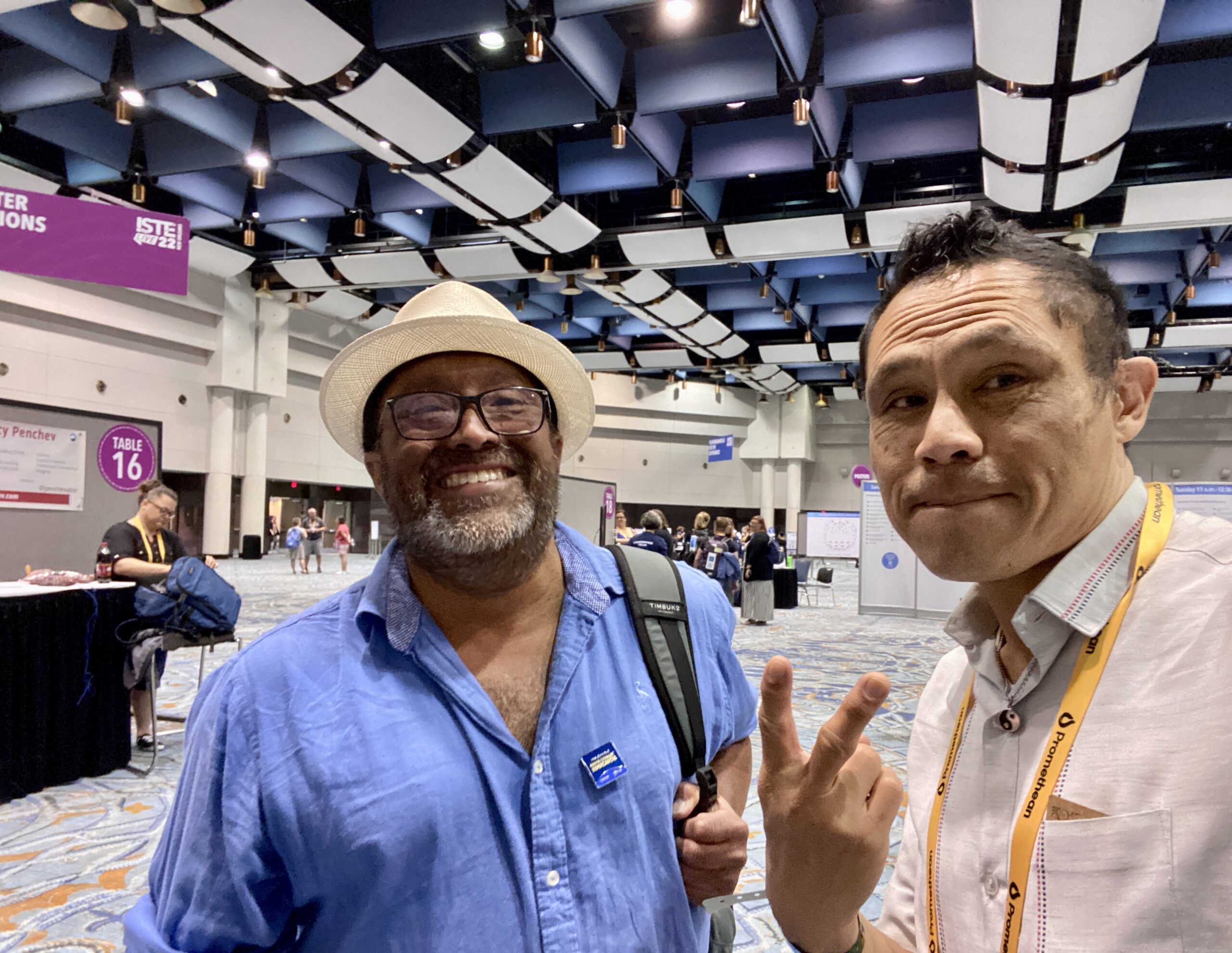 Another fascinating part of being at ISTE was learning about the current trends, issues, and ideas floating around the edtech space nowadays. Just walking around the massive expo hall or scanning the day's events gave a detailed snapshot of what is on folks' minds who work in this space.
Among the key areas of interest at ISTE:
Online safety and privacy
Digital citizenship
Coding and programming skills
Augmented and virtual reality
Personalized learning
Artificial intelligence and education
Robotics and drones
ISTE was also an opportunity for me to learn more about specific companies that had products that could be used for student media creation. Here's a few of the many interesting tech providers I talked with at ISTE:
Autodesk (3d design)
Bookcreator
Minecraft for Education (Microsoft)
Screencastify (video tools)
Sketchup (3d design)
Soundtrap for Education (audio production)
Tinkercad (3d design)
Unity (game development engine)
So many neat companies producing powerful tools that teachers and students can use to make all sorts of media!
But the most impactful part of ISTE for me was just being in the presence of thousands of educators from all over the United States who are excited about using technology to boost student learning. The plenary hall was bursting to the seams with folks during the keynotes. Many sessions had folks camping out ahead of time to get in, and simulcasts playing in auxiliary rooms. It was a festival of pedagogical innovation.
Plus beignets. So many beignets!