The Pixar film Finding Dory takes place largely in the fictional "Marine Life Institute" whose mission is the "rescue, rehabilitation and release" of marine life. The institution is depicted in the film not only showcasing marine life for the public, but also performing veterinary services, working with injured animals to prepare them to be released back into the wild, and sharing scientific and ecological information with the public.
Fortunately, there are a number of awesome real world organizations doing this kind of important work, a slew of them in Northern California alone. For those who were inspired by the film to help real life institutions working to protect marine life, here are some you should know about, and consider supporting.
Monterey Bay Aquarium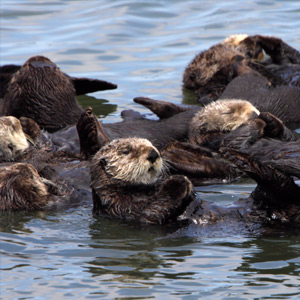 It's no big secret that Marine Life Institute is largely inspired by the Monterey Bay Aquarium, as director Andrew Stanton describes in this article.  They are a world-renowned marine science center that also does important work in supporting local marine life in the Pacific. For example, they rescue, treat and release injured sea otters. (No word on if they send any of them to Cleveland.) They also rescue and rehabilitate shorebirds like the Snowy Plover.
Head to their website to learn how you can support their important work.
The Marine Mammal Center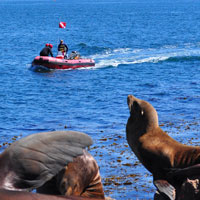 The Marine Mammal Center is another wonderful Northern California marine biology institution, located in the Marin Headlands, just across the Golden Gate Bridge. MMC's mission is to "advance global ocean conservation through marine mammal rescue and rehabilitation, scientific research, and education." Their staff and volunteers rescue marine mammals along 600 miles of Central and Northern California coastline and inland areas. MMC also rehabilitates and releases about 600 marine mammals a year from their facility. And they perform an important role in educating the public about how to make oceans a healthy place for all life.
If you see an injured animal or one in distress, call their hotline at 415-289-SEAL.  There are many ways to support their work, from becoming a member to volunteering. Learn more at their website.
The California Whale Rescue
Another relatively little known organization is California Whale Rescue. They are a network of trained volunteers who work to save whales entangled by fishing nets, crab pots, ropes and other ocean debris, and support actions that prevent future entanglements of these amazing marine animals. It's dangerous but important work. Watch this video of a whale disentanglement in action.
You can report an entangled whale sighting by calling 877-SOS-WHALE. Head to their website to find out more about how you can volunteer and help.
The California Academy of Sciences
The California Academy of Sciences is another important California institution dedicated to studying and protecting marine life in our local area and around the world. We are a world-class marine science research center, with leading experts in marine ecology, marine invertebrates, marine mammals, shorebirds, pelagic fish, marine arthopods, and many more ocean-related disciplines.
We also have a team of field biologists that collect scientific information about dead marine mammals that unfortunately are a fairly common occurrence on our shores. Our scientists work to determine the cause of death, collecting samples or sometimes the entire animal to perform a necropsy back at our facility in San Francisco. This is important work if we are to understand what is endangering marine life in our ocean, whether naturally occurring or caused by human impacts.
Watch this video of how we collected and studied Orca 0319, and what we learned.
If you find a dead marine mammal, along the Northern California coastline, please call the California Academy of Sciences' department of Ornithology and Mammalogy at (415) 379-5381, or email the department at marinemammals@calacademy.org.
This is just a small sample of the many great organizations aiming to protect marine life in our oceans. Finding Dory is a very sweet story that showcases some of the wondrous creatures in the sea, from the blue tang to the gentle whale shark, the color-shifting octopus, to the gnarly sea turtle. We can all do our part to protect our oceans, for their sake, as well as our own.